With the global climate now around 1 degree warmer, we are now in the no fall zone for climate change and the very future of snow sports. As my guide used to say, commit, you're in the no fall zone! You fall here, you'll die.
These pictures show the speed of glacial retreat at Tignes, one of Europe's best-known summer skiing locations: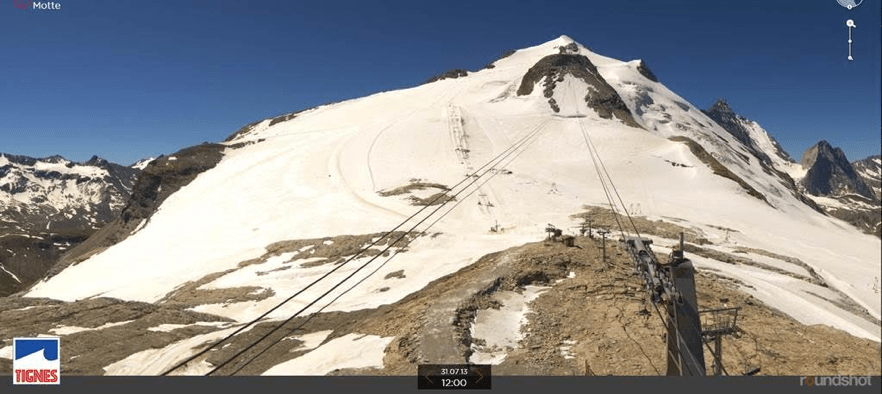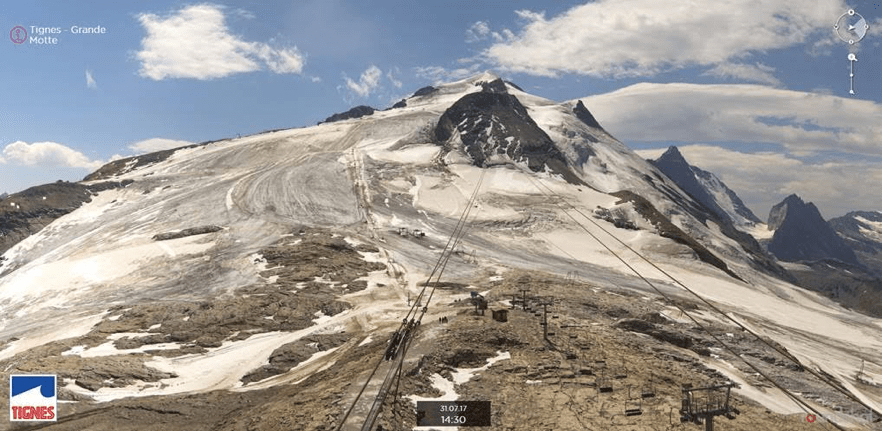 Snowsports – on the front line of climate change
Snowsports are on the front line of climate change. In the cold and wild places, climate change is very real – it's happening, now and quickly. There is profound glacial retreat around the globe, snowfall patterns are more erratic and high-temperature volatility during winter means less consistent snow conditions. In North America, witness the tragic news of the cancellation of the world famous Whistler Camp of Champions this year due to glacial retreat in a high snowfall season. In Europe, the extensive glacial retreat and early closure of summer camps.

In the No Fall Zone
Remember that tingly feeling you get when the guide turns around and says in a gravelly French accent (at least in La Grave or Chamonix), "no fall here, you fall you die." You remember the massive cliff you are traversing over, that space sucking at you. Hell, it's a flat traverse, why's my heart beating like this, why am I nervous? Then you remember that sweet and massive field of untracked powder…the fierce joy that comes with ripping through it with your friends…the fact that you can actually ski or snowboard. Take a deep breath, focus, off we go – BOOM!
Commit, or die
Helps you focus doesn't it, that 'you fall, you die' stuff? Well, that's where we are with climate change peeps, staring over the cliff. If we fall, certain death, if we don't, good times. So take a deep breath, buckle up, remember the POW and commit. The good news is we have all the tools we need to tackle climate change by getting off fossil fuels – increasingly cheap renewable energy sources and electric cars. The bad news is that we're not moving quickly enough, so we need to do more or no-one is going to be doing many powder turns in the future.
Concerned?
Concerned? You should be. We know this is a big, scary, global problem that our governments and big business should be held accountable for – as individuals we often feel voiceless and powerless. That's where POW comes in. We will guide you through the science and actions that we all, as a UK winter sports community, can take to drive effective change on climate change. Together, we have a louder voice and stronger impact. Together, we can take positive action to make a real, difference.
Let's make change happen together and protect our winters for future generations.