You've just got to decide you're never going to stop"
These were the words from POW UK ambassador Mark Beaumont when asked how he achieved the incredible feat of cycling around the world in under 80 days (78 days, 14hrs & 40 minutes to be precise), breaking no less than two world records and raising the bar significantly in the world of ultra-endurance cycling.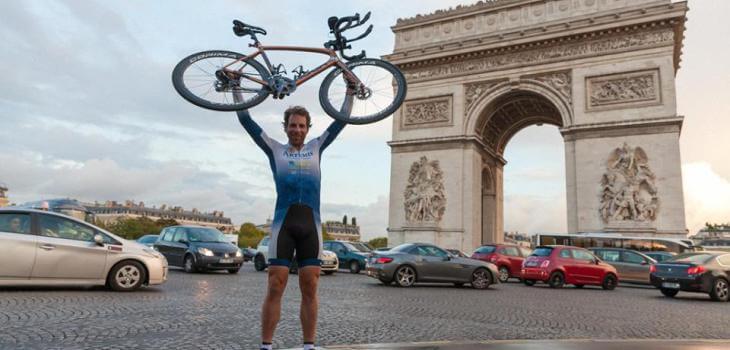 Inspired by Jules Verne's classic adventure novel Around The World In Eighty Days, Mark began his journey in Paris on 2 July and cycled an average of 16 hours (240 miles) a day, and only slept for five hours each night. He cycled through Europe, Russia, Mongolia and China, before reaching Australia and New Zealand. He returned through North America before "sprinting" through Portugal, Spain and France. It's hard to express quite what an extraordinary achievement this is – for most people, cycling 100 miles would be a major challenge! Succeeding in cycling around the world in 80 days has not only redefined the limits of endurance sport, it has made the previously impossible, possible.
But what's that got to do with climate change you may ask? Actually, quite a lot.
Making the Impossible, Possible: Turning Concern, Commitment, and Confidence into Success
Remember the four-minute mile? There was a time when many believed that it was impossible for humans to run a mile in under four minutes. Runners had been trying to break this barrier since the late 1800s. Then, in 1954 Roger Bannister ran the mile in 3 minutes 59.4 seconds. A month and a half later, John Landy ran even faster. Now, it is broken routinely.
I can't think of a better example of the immense power of human psychology and the manifestation of belief. In the words of William Arthur Ward, "If you can imagine it, you can achieve it. If you can dream it, you can become it". Conversely, self-doubt is often the single greatest barrier to success.
In a piece to camera for POW UK, just before his expedition, Mark talks about the parallels between his approach to the challenge, and the psychology behind something as overwhelming as climate change. It's his conviction that if we are concerned enough about something, we will commit to the preparing for the challenge at hand. The more we prepare, the more our confidence grows that we can succeed, and once we believe we can succeed, nothing can stop us.
Why Doom and Gloom Just Creates More Doom and Gloom
The attitude that leads to ground-breaking achievements like these is so far removed from the doom and gloom scenarios we're so used to hearing on the news. Climate Change, The War on Terror, Global Conflict – not only are we constantly bombarded with negative news stories, but they are also nearly always presented in a way that's big, scary, and insurmountable. I don't know about you but it certainly doesn't motivate me to get off the sofa and do something positive. I'm more likely reach for a tub of ice-cream and the nearest box-set. It's incapacitating in its negativity.
But what if we all took a bit of Mark's incredible can-do attitude and just decided we're never going to stop. Ok, so we're not all going to become athletes, but if we believe in something and commit to its cause, we have immeasurable strength in numbers. We can achieve anything. It may not happen overnight, but if we are concerned enough to make one change at a time, committed to taking positive action, and have the confidence to drive it forward, then the ripple effect will be unstoppable.
I can already hear the climate deniers and eternal pessimists muttering about this being hippy dippy nonsense. Try telling that to Mark Beaumont, I dare you!
Ever felt like being a hero? Well now you can be.
Join me and let's commit to taking positive action to Protect Our Winters!