These pictures show the speed of glacial retreat in Tignes, one of Europe's best known summer skiing locations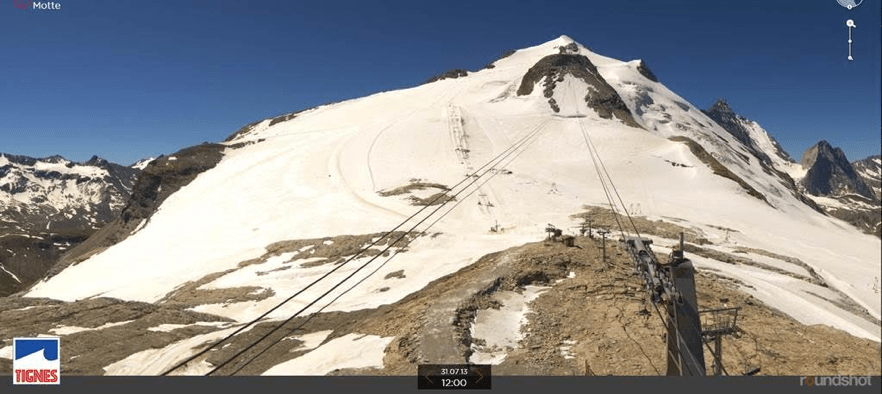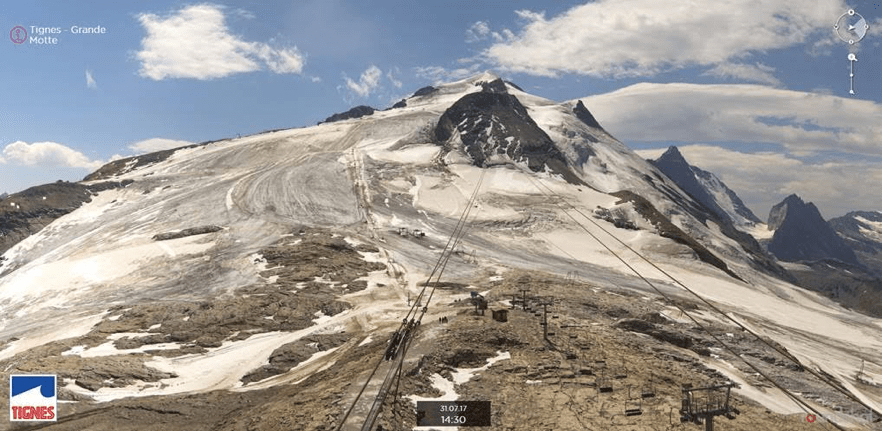 The current picture
In 2015 in Paris, the nations of the world came together and, in an unprecedented show of global unity, agreed to take action to limit global warming to 2°C above pre-industrial times and to make every effort to limit it to 1.5°C.
With the global climate now around 1°C degree warmer than pre-industrial times and at the current rate of warming, we will blow through 1.5°C in the 2040s and the 2°C target in the 2060s, give or take.
The Intergovernmental Panel on Climate Change (IPCC) have just released their latest report[1] on what the differences might be between a 1.5°C world and a 2°C. In simple terms, a 1.5°C world is just way more pleasant: fewer extreme weather events, less involuntary mass migration, less intense wildfires, fewer droughts. Put another way, the 1.5°C target is one we should all be striving for.
Is there hope for snowsports?
Climate change is complex and nuanced, but for snowsports it's simple. If we don't take immediate climate action then the Alps will have 70% less snow by the end of the century.
70% less snow means the end of snowsports. There will still be snow, but not enough and with such poor reliability that it just won't be economically viable to run resorts and shops and manufacture skis when there is unlikely to be snow at key times like Easter and Christmas. Crushing.
But, if we take climate action and rapidly de-carbonise our economy, then scientists forecast a lot more snow. Yes, there will still be impacts from climate change, but they will be much less severe; with prompt climate action there will be a 30% reduction in snowfall by the end of the century[2].
Once more:
Slow or limited climate action, 70% reduction in snowfall, end of snowsports
Prompt climate action, 30% reduction in snowfall, snowsports live on
Of course, there are many very serious impacts associated with climate change, but we find it hard to to imagine the loss of polar bears, extensive droughts and wildfires, mass crop failures and so on all at the same time. So we've simplified it to this.
But what can I do?
It can be hard to know what to do. But don't worry, that's why we exist. Pure and simple, to Protect Our Winters, by guiding and supporting you to be the hero on climate change.
We know the answers, we need to rapidly de-carbonise our economy, to get off fossil fuels immediately. And there is a whole load of things you can do to help us.
So sign up today, join our campaigns, help us to Protect Winter. Start by asking your bank to be cool on climate today, here.
[1] October 2018 https://www.theguardian.com/commentisfree/2018/oct/08/world-leaders-climate-change-ipcc-report
[2] February 2017 https://www.telegraph.co.uk/travel/ski/news/climate-change-research-predicts-70-per-cent-less-snow-alps