Earlier this year, 16 team members from ski holiday providers NUCO and Erna Low joined forces to undertake an adventure to raise funds for Protect Our Winters UK (POW UK). This was the team's first official meeting, so naturally team-bonding was on the agenda, but their main aim was to tackle the Three Peaks Challenge in a mere 24 hours.
Climbing the highest peaks in each of Scotland, Wales and England (walking over 23 miles with over 3,000 metres of ascent), they carried a pair of skis with them to raise awareness for the impact of climate change on mountainous regions. Raising an amazing £2933 towards action on climate change through their challenge, the team's said they were proud to complete the challenge and join the crucial fight against the climate crisis. Read on to find out how their adventure unfolded, by one member of team NUCO…
Do you want to undertake a challenge in your company to raise money for POW? Get in touch now via the Contact Us form!
---
"After meeting in Glasgow, we were collected by minibus and off we went. After a warm welcome and getting to know everyone we made a quick stop in Fort William for dinner sampling some of the local delicacies (fish n' chips) and headed on to the hostel. With a few rounds of Perudo played – what a great game! – it was off to bed to get a good night's sleep, ready to take on the Three Peaks Challenge the next day.
6am and the alarms are going off in unison in the girls' dorm – it's time to get started! Quick shower, get dressed, grab our things and we're off on the bus – the adventure begins. After a short ride we arrive at the base of Ben Nevis – we have a safety briefing, do a few stretches and check we've got everything we need.
The stop watches are set and we're off. Hiking into the unknown, we can't see a thing due to cloud and a misty rain (all part of the fun!) We were all in high spirits and ready to conquer the first mountain. With much chatter and a few mini gem sweets being thrown to each other we made it to the top in just 2.5 hours, which we were pleased with. We took our first top of a mountain team shot and we were off again.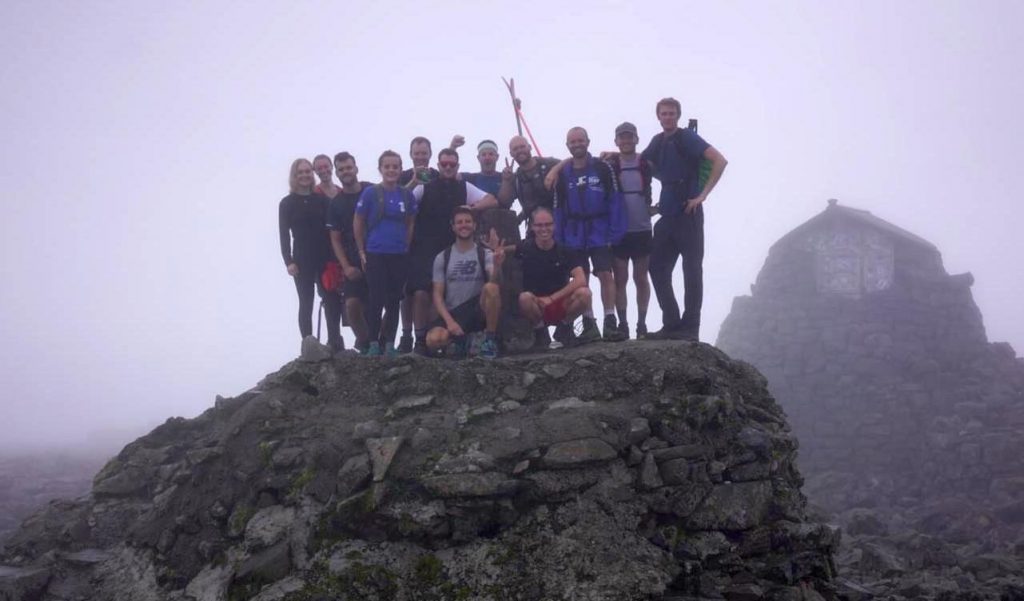 The downwards journey proved a lot harder than expected with a steep gradient, heavy rain and slippery rocks, however the journey was brightened when we crossed paths with the cutest schnauzer dog who had a very wet dribble soaked beard due to the rain! Lucie our newly dubbed base manager (unfortunately unable to take part due to injury) was also waiting for us with hot tea and coffee to help us warm up when we arrived back around midday. Back on the bus and off to the next mountain.
So back to England we went. The coach ride was nice and easy filled with games, movies and maybe some napping too and before we knew it, it was 6.37pm and we were at the base of Scafell Pike. We were extremely lucky in that the weather had cleared up, and our clothes were just about dry again. With recovered legs we were ready to take on mountain number two. This was a much cheerier walk up as there was a lot more talking and banter being thrown around.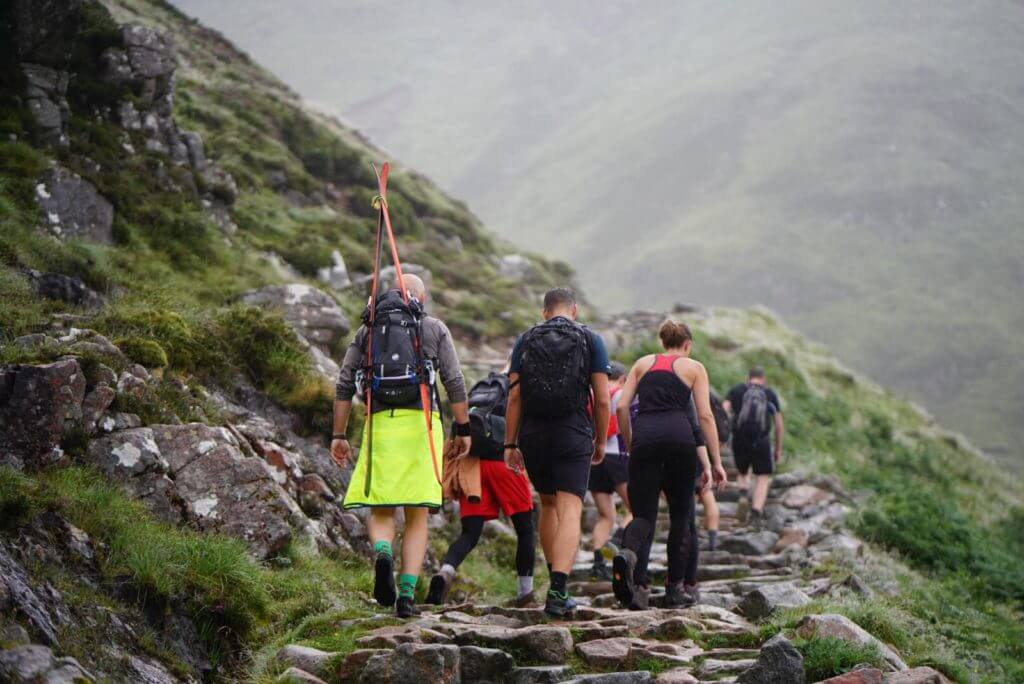 Alex decided that he was going to entertain us all with Haiku poems he improvised on the spot including 'oh the babbling brook', inspired by our current surroundings and adventure. By 8.20pm we had made it to the top, taken a quick picture and were on the decent graced with a beautiful sunset over the mountains to distract us from the downhill walk. Our base manager this time was prepared with celebratory cider and beers – we were two thirds of the way there and had finished this mountain before dark – go us!
It's now 10pm and we're back in the bus – this journey was a lot more eventful – we had to get out of the Lake District and over to Wales as quickly (and safely) as possible but it appeared that all the local wildlife wanted to say hello, turn a corner there's cows in the road, turn another corner the road is filled with sheep, more cows round the next corner, this first part of the journey could almost have been compared to a roller coaster ride, but we settled down and caught as many winks as possible ready for our next climb.
3am, head torches on and we're off again! This, in my opinion, was by far the best walk and the most fun. It was much more exciting walking in the dark, scrambling over the rocks and across tiny streams. It was a challenging route up but we made it just in time to see the sun rise from the top of Mount Snowden. We spent a little longer at the top here but realised if we were going to make it to the bottom in time we needed to press on.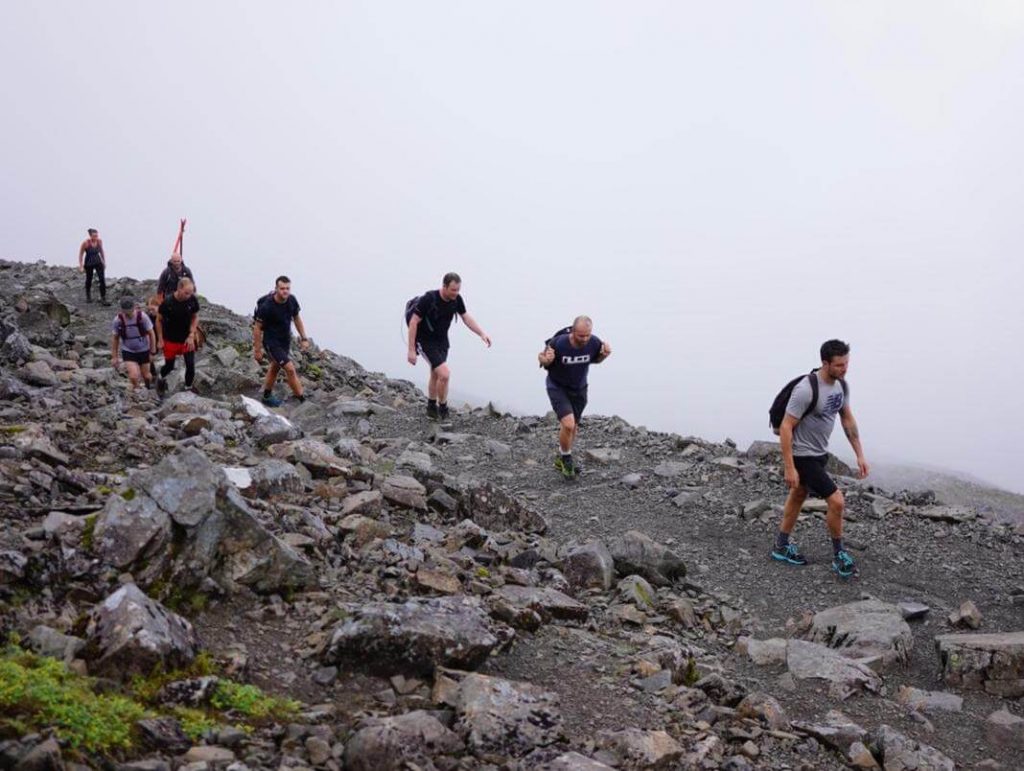 Well, Maddy and I lost the rest of the group – slow downhill walking I think, my knees were suffering by this point – this was the prettiest walk of all so we were in a very positive mood. Having taken a wrong turn we ended up descending through the top of a mini waterfall, when we realised and the water got too deep/fast we had to climb up a little and venture round to join the proper path.
Back on track we had reached 'flat' land again but noticed we were running out of time. We asked some fellow walkers if they'd seen our teammates – the ones carrying skis! We knew we weren't too far behind. One lady told us we had just over a mile to the end, and with 20 minutes to go… We ran to the finish! We were so tired by this point but Maddy's motivational talk, my stubbornness and the pretty views got us running to the end where we were greeted with the best tasting beer (I don't normally even drink beer) and breakfast. We made it with just 12 minutes to spare!
We were really proud to complete this task to raise money for Protect Our Winters UK in the crucial fight against the climate crisis that could severely damage the snowsports industry."
---
So there you have it, the inside story of the NUCO and Erna Low Three Peaks Challenge. Thanks and well done to those who took part!
If you're considering doing a fundraiser for POW UK we'd love to hear from you, please get in touch.