What do the Party Manifestos have to say about Climate Action?
You will all know that there is a general election coming up in the UK. It is this Thursday. The most important thing that you can do is VOTE. Make sure you have your say in this election!
Here at POW UK our goal is simple. We want to accelerate the transition to a carbon-neutral society. With this in mind, we have taken a quick look at how each of the political parties have addressed climate action in their manifestos.
At POW UK we talk a lot about making informed decisions when it comes to buying a climate-friendly snowboard, taking the train instead of flying or buying clothes from companies that align with our values.
However, one of the most important things we can do as an individual is to make an informed decision when it comes to which political party, or which MP you will vote for. Especially if you are interested, like us, in supporting an ambitious policy that takes into consideration the urgency of the climate crisis.
Time to use your power as a voter, time to make your voice heard. This is an important decision. Vote with the planet in mind #VoteforSnow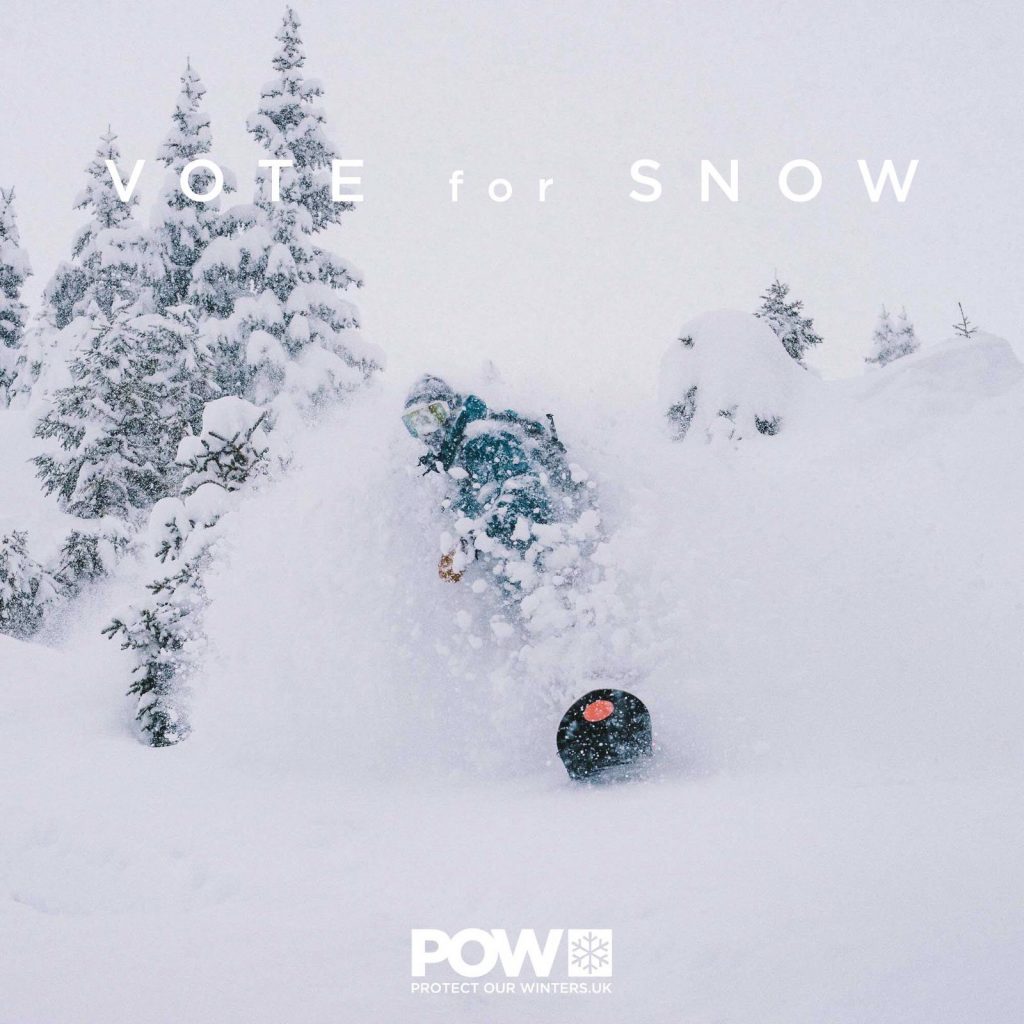 Here is our snappy shorthand summary for what each of the parties has to say, in their manifesto, about reaching net zero greenhouse gas emissions – aka climate action.
---
The Conservatives say they will deliver net-zero greenhouse gas emissions by 2050.
The Labour Party say they will deliver a net-zero carbon energy system during the 2030s, faster if possible.
The Scottish National Party say they will aim to bring the UK in line with Scottish climate targets, that is a 75% reduction in emissions by 2035, net zero carbon emissions by 2040 and net-zero greenhouse gas emissions by 2045.
The Liberal Democrats say they will deliver a ten-year emergency programme to cut greenhouse gas emissions substantially immediately and phase out emissions from the remaining hard-to-treat sectors by 2045 at the latest.
The DUP will support the Northern Ireland Executive to request a formal recommendation from the Committee on Climate Change on a target for carbon dioxide reduction by 2050.
Plaid Cymru say they will make Wales a carbon free nation by 2030 and will campaign for a European climate law, with binding carbon budgets to reduce emissions by at least 55% by 2030.
The Green Party say they will deliver a Green New Deal and bring the on track to reducing climate emissions to net-zero greenhouse gas emissions by 2030.
The Brexit Party make hardly any mention of climate action but they say they will support global initiatives at the United Nations.
UKIP say they will scrap the Climate Change Act and make no mention of a goal for reducing greenhouse gas emissions.
If you would like to compare more details on what the party manifestos have to say on climate and related areas such as energy and transport, there is an in depth summary over at Carbon Brief.
If you would like to see how your current MP has voted on issues like climate in the past have a look at mySociety for more information.