In mid-July I completed an ascent of Mont Blanc as part of the high mountain exams required to become a UIAGM Aspiring Mountain Guide. As well as being a physical and mental challenge, we were presented with daily reminders of how fragile the mountains and the alpine places we love have become. The effects of climate change are visible every day and for those of us working professionally in the mountains these present us with dangerous and challenging situations. This is my diary account of my experience undertaking these exams. 
I want to thank those who shared these days with me: Enrico, the brother I didn't have, Andrea "chicco", Denis, Gabriele, Carlo, Manuel "il baga" and our instructors Davide "capazin", Andrea, Alex and Davide "the swiss".
Part 1 – Back in the valley
Leaving for an expedition is always complicated. You're never quite sure if you took everything with you or if you forgot something. There's always a thread of tension surrounding the preparations and departure; an uncertainty to the conditions of the mountain and an anxiety around the exam itself.
Despite growing up as a climber and skier I have limited experience of high mountains and so find the terrain and environment uncertain and unpredictable. There's no room for distraction or error.
But now I have to face them.
I leave home with my little car on a hot Saturday morning heading towards Mont Blanc with a radio soundtrack of pandemic news and indie songs. Everything flows smoothly, slowly, crossing the Po valley, up to the Aosta Valley.
After five hours in the car, I need to rest and stop at a hotel. The night is quiet, but very hot; it seems impossible that such a hot wind can be coming from the mountains that I am heading towards.
The next day I did a little solo trek along the Val Veny at the foot of Mont Blanc. I knew Enrico had already climbed to the Rif. Torino a few days earlier to acclimatise but I personally didn't feel the need. I prefer to be calm before an important event, especially when feelings of anxiety are high.
I had never been to this valley before and found myself among hordes of Sunday tourists, mainly from Milan, looking for some relief from the summer heat of their city. Rows of parked cars, screaming children, rubbish left lying around, hardly a mountain paradise.
Even at this altitude there's no escaping rising temperatures. The tourists gaze at the huge cascades of water fed by the huge glaciers of Mont Blanc, an indication of the bad situation for our planet.
The air is still strong, I arrive up to the border with France, then I go down to the valley.
An ice cream, a quick dinner and to bed.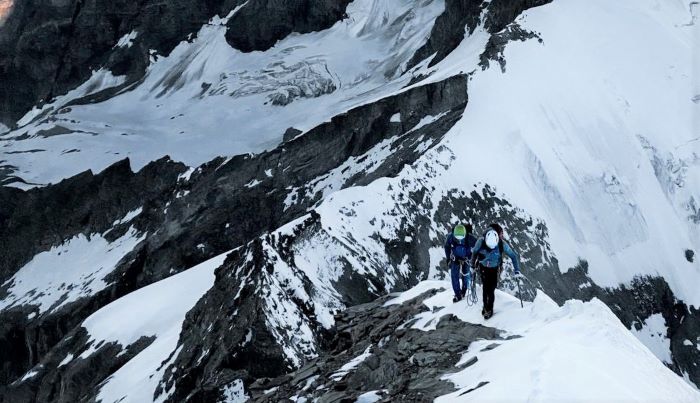 Part 2 – It seems easy but it is not
I struggle to breathe, I am hot and under pressure. Stress test!
On paper, crevasse rescue operations seem easy and almost trivial, but in the moment when you have to consider everything, it becomes more complex. Aware that the examiner is watching, you want to go as fast as possible, but know that you need to stay calm, focused and not forget any key steps.
My hands are shaking, my breathing becomes short and my mouth is dry. A mix of fear and excitement takes over followed by immense relief when the exercise is over.
It turns out this was the easiest part…
That evening we are told the program for the next two days: climbing to the Giant's Tooth, a huge granite spire visible since Courmayeur, followed by the ascent of the Kuffner ridge, to the top of Mont Blanc and then a descent from the French side towards Chamonix.
My gaze immediately crosses with Enrico's. It is incredible how much more can be said with just a look: there's a lot more to come.
A really long, but not too complex, climb is ahead of us.
After the meeting we run to prepare our backpacks. By now everyone knows that I'm an equipment junkie. I love the lightest, most compact and most functional material. I prepare my backpack with care and attention, taking only the essentials: a pair of Camalot Ultralight, a few carabiners, and a pair of lanyards. I close everything then put on my favorite jacket, the M10 anorak, the lightest three-layer jacket of all, and head off to the cable car ready for whatever the next two days will bring.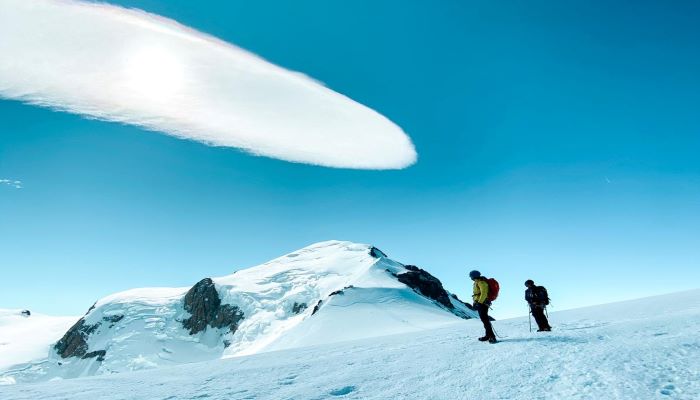 Part 3 – White is the colour
"[email protected]#…what the hell am I doing !?"
This is more or less what I was thinking at half past two in the morning on the second day when we found ourselves catapulted into the middle of the glacier. Despite the early hour it is strangely hot. Too hot. I am tied with Enrico, crampons strapped to our feet, moving at such a pace that we're almost running on the perfectly frozen snow. Luminous trails of the frontal stacks cross each other and illuminate the darkness.
We laboriously go up a steep channel of snow and enter a labyrinth of rocks and ice.
Denis and Davide "capazin" are in front of us. Rocks occasionally fall and move around us. The tension is high. I look at the clock and it's only five in the morning. I can't wait for the sun to rise…
Eventually dawn arrives with an icy wind that whips our faces as we near the end of this difficult ridge.
After descending the first peak all that remains is to reach the top of Mont Blanc. The last 300 meters are endless. At over four thousand meters high our steps are slow and rhythmic. Laboured breathing soundtracks our diagonal path. I've been looking at the ground for an hour now, unable to turn my gaze to the summit, so close but almost unattainable.
Finally, it flattens. We can't go any higher. We've reached the top.
I don't remember much of that moment other than some hugs and handshakes…
No time to rest and reflect as a few minutes later we begin the descent into France. Only now do I begin to realize the flow of our climb. We were on the exam, of course, but it was a climb of personal satisfaction.
This time I am tied to Davide and he is descending fast, possibly suffering a bit from the altitude. We all meet at the 'Refuge Vallot' where the joy explodes, we are all happier and more relaxed, we laugh by looking back at our steps.
Now off to Les Houches and then a nice snack … as they always say "tired but happy!"
Part 4 – The last effort
Without time to catch our breath we face the final two days.
This time the top of the Matterhorn on the Italian route, also called the "Lion's Crest".
On the first day it rains, everything is gray and our goal cannot be seen, immersed in a sea of ​​threatening clouds. As soon as the weather improves we are on our way, first reaching the Oriondè refuge, and then the historic Carrel hut. In the evening the weather finally improves, allowing us to see the summit and enjoy a fairytale sunset.
The evening passes quickly, we manage to keep warm, eating pasta and sipping hot tea. A luxury if you think about where we are staying overnight!
Another early start and in a few minutes we are ready and begin to immerse ourselves in the darkness of the Matterhorn. It's much colder this time.
The climb is difficult: stretches of friable rock alternate with snow and ice slopes. We laboriously climb the famous fixed ropes that tame this difficult wall. In just over three hours we reach the top, driven by a freezing wind. Again a quick photo and down to the valley. This time, however, the descent is as difficult as the ascent, no distraction is allowed.
Finally we reach the Carrel hut again, drink some excellent hot tea with biscuits and reach our cars exhausted.
It's all over now…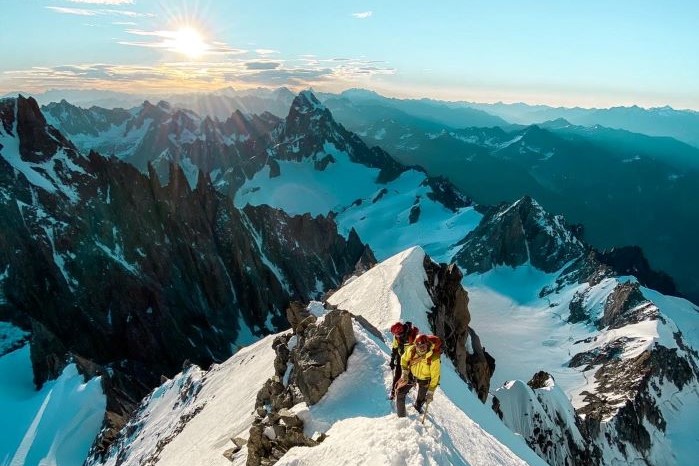 Part 5 – Back home
Everything is over, everything has gone well. I have been promoted and my goal of becoming a UIAGM mountain guide seems ever closer. 
The tension disappears, leaving room for relaxation and reflection. Our homes, our mountains, what is happening to them.
Despair creeps in. It's easy to think that as everything is in motion, why try anything at all? It seems as if we are stuck with endless and tragic repetition. But we also know that nothing is really what it appears to be and so we can ignore this unease. What difference do feelings make? After all, they're not facts, right?
Unfortunately, however, what I see in our mountains are tragic facts and we are walking on a thread that is becoming more and more worn. Change is the only constant; "panta rei" as Heraclitus said.
Everything changes, everything flows.
While we all waste time in the continuous flow of images on social media, we do not notice the flow created by the melting glaciers. We are all good at talking and sharing. We close the leaking taps, we eat organic food, we recycle but when it rains we jump in our cars, use plastics and burn fossil fuels to heat our beautiful homes to temperatures that match equatorial countries.
We are witnesses and executioners at the same time. We are wearing down our life, our Earth.
It is now clear that catastrophic climate events are rapidly increasing. The only weapon is us. Only great projects and great initiatives can slow down this catastrophic situation. We need to take collective action and be accountable.
Written by Andrea Milani, climber, alpinist and skier. All photos by Enrico Veronese.