Since launching POW UK just a few months back at the start of 2017, the response has been incredible. What with the charity already so well-developed in the US and in other countries around the world, we knew that the UK would engage with our calling – but never did we expect for so many like-minded outdoor enthusiasts to come together to form such a strong sense of community.
Despite this, the lead-up to the 2017/18 winter season kick-off has been an important one for us here at POW UK to develop that community further – so over the course of a few weeks in October + November especially, we embarked on a mission to get the word out at as many events around the country as possible.
Right to Roam: An Evening With Alex Yoder, hosted by Patagonia
29 September
This film premier event – with all proceeds going to Protect Our Winters UK – was also an amazing chance for attendees to ask Alex Yoder questions about roaming responsibly and the social sanctuaries created when all have equal access to mountain space and refuge.
Highlights included the mental and incredibly Scottish character Gregor: a ginger, bagpiping & gaelic-speaking inspiration. Scottish landscapes are hauntingly beautiful – and it's astonishing how much rideable snow is out there if you look for it!
#PlanksGrassroots Tour 2017: a few stops along the way
Dates across October
The Planks Grassroots Tour was created to bring together skiers of all levels and ages at local centres – to show off their skills and develop new ones. This year, there were four stops on the Tour located in different snow-centres around the UK. Each event included a professional freestyle coaching session from British Freeski Camps, rail jam sessions run by Jibworx and a film screening – as well as really great, creative vibes.
Protect Our Winters UK ambassadors Warren Smith and 11 yr old Bradley Fry were involved in the project, and some of the POW UK team were more than happy to tag along and watch some of the super-fun riding that went down.
Holmlands tour events
Dates across October
Holmlands are the exclusive UK license holder for Matchstick Productions (MSP Films) in the UK and last month, hosted the first nationwide tour for MSP Films' #DropEverything in London, Edinburgh, Glasgow, Manchester and Birmingham. The event series brought together an impressive community of snow-lovers from around the country – with a number of athletes taking part in audience Q&As after the screenings.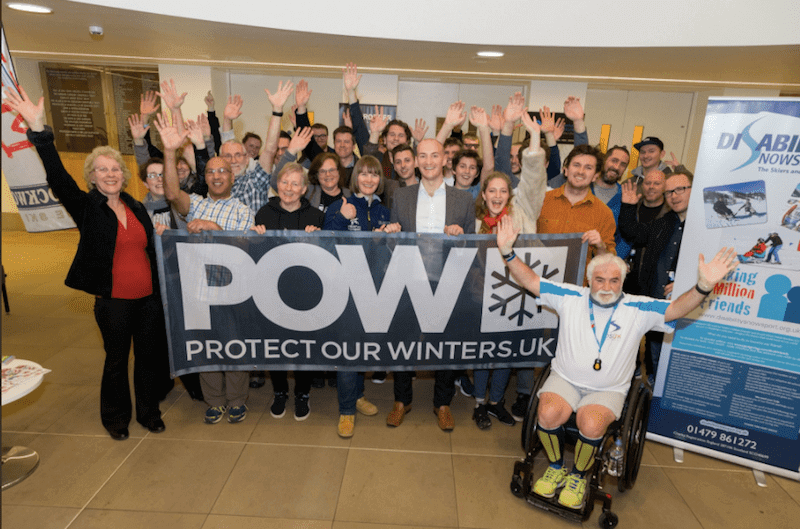 The Telegraph Ski and Snowboard Show
October 26 – 29
This annual, 3-day event organised by the Telegraph stands as a major point within the seasonal calendar for anyone involved in the UK's ski and snowboard scene. Comprised of a huge number of different events formats – including an outdoor ski slope, an apres bar and a large expo area for brands and worldwide resorts alike – this is a trade and public one-stop to fully prepare for the coming winter.
Protect Our Winters UK were stoked to contribute with our POW Hunt game across the event, as well as a number of educational sessions on the Mountain Stage. Highlights definitely included presenting with Ed Leigh & Warren Smith, as well as meeting ans recruiting a few more of our awesome POW UK ambassadors (watch this space). All proceeds of the Planks raffle at the Telegraph Ski and Snowboard Show generously went to POW UK – an endeavour that was only topped by team table-dancing at the after-party.
POW HUNT COMPETITION UPDATE: winners have been randomly selected from those who took part in the Protect Our Winters UK POW HUNT – and will be emailed directly before Friday 22 December. A huge thanks to everyone involed and for The Telegraph Ski & Snowboard Show for hosting onsite at the event!
More info for the 2018 event here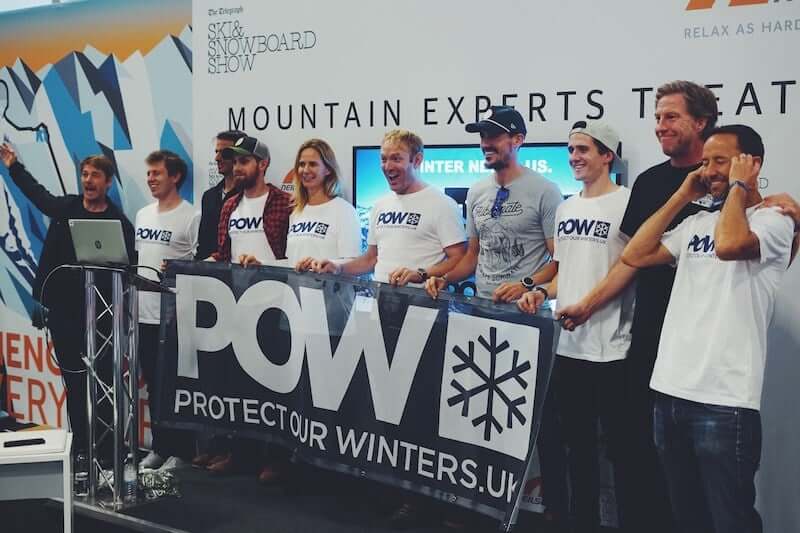 iF3
9 November
iF3 is an International ski and snowboard film premiere event – run here in the UK by Sub Zero Events. Renowned across the scene as an amazing opportunity for seasonaires to come together one last time before going our separate ways for winter seasons across Europe, the evening showcased some incredible film projects.
Another amazing thing about iF3 is that many of the athletes attend in person to intro and premiere the film themselves. Highlights included Lena Stoffel's Japan movie, 3am beer pong in London's Clapham Grand, and a rowdy crew of Norwegian freestyle skiers shot-skiing on stage. It was a great chance for POW UK to get in front of a younger snow-loving crowd ahead of the incoming winter season.
Kendal Mountain Festival
16 – 19 November
Standing as one of the largest action film festivals in the world, Kendal Mountain Festival has created an incredible audience of around 20,000 people – who descend on Kendal over the weekend to take in the stunning programme of speakers, films and events. Covering pretty much every outdoor activity you can think of and supported by many major outdoor brands, the festival is an amazing congregation of like-minded enthusiasts. POW UK were stoked to be part of the increasingly famous winter sports film night.
Highlights for the POW UK team particularly included Patagonia & climbing legend Rick Ridgeway talking so humbly about Patagonia's purpose and some of the adventure's he's been on – including one of the first ascents of K2.
It's been a busy few weeks, and like you, we're so excited for the winter to crack on – but next on the POW UK events list is our first schools education event at Edinburgh Academy on Monday 11 December. POW UK ambassador Mark Beaumont and POW UK founder Sandy Trust will be addressing a group of 600 pupils to talk about climate change awareness; projects like Mark Beaumont's epic around the world cycle and introducing Protect Our Winters UK to the next generation of climate-aware young activists in the making.
We look forward to seeing you at an upcoming event this season somewhere soon! Make sure you're following us on our social channels (instagram, twitter, facebook) for ongoing updates, and feel free to get in touch if you'd like to collaborate on an upcoming project this winter.
Words from Faith Robinson